Swiss Krono CDF - Washrooms & Toilet Cubicles
SWISSCDF compact density fibreboard is resistant to water splashes, offering an ideal solution for environments with high levels of moisture.
"Bring New Life to Narrow Spaces!"
SWISSCDF is a compactly sealed, black coloured compact fibreboard. Architects, designers and builders love the high density (> 1,000 kg/m3) of that attractive and elegant product. With its multi-ply construction, SWISSCDF boards can offer patterns and textures like no other product in interior design. SWISSCDF compact density boards have also proven themselves in areas with increased moisture (with splashes, without continuous contact with water and not in standing water). They can form front panels in kitchens and bathrooms.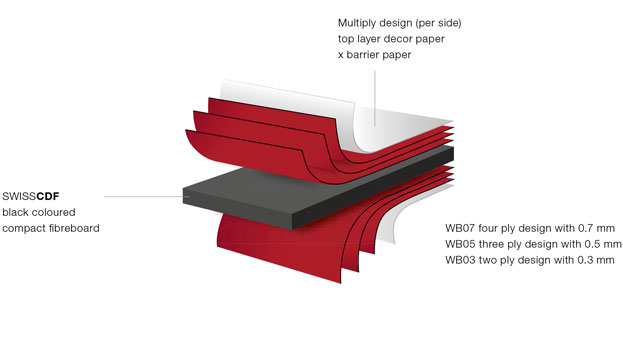 SWISSCDF products are unique in terms of its density and robustness holding their own as lockers in sport and wellness facilities, or separating everything that needs to be divided in sanitary facilities. Natural, very robust, scratchproof, splash resistant and with a high level of flame resistance, the SWISSCDF boards can be turned into toilet cubicles, changing rooms or WC toilets.
Specific applications require a careful selection of materials. SWISSCDF can be pressed with all the textures and decors of the One World Swiss Collection of SWISS KRONO AG which fulfil the highest requirements and choice.
A fire retardant requirement often limits the choice of materials for projects. SWISSCDF meets the requirements according to EN 13501-1 which increases its range of use vastly. SWISSCDF boards are environmentally friendly too. Download the brochure and discover main advantages of SWISSCDF fibreboards to include: low swelling, shock resistant, scratch resistant, processing friendly, eco friendly,hygenic and available in a wide variety of colours and structures.
---
Washrooms & Cubicles Gallery
Oops, no products have been added to this category yet.
Special Offers