Swiss Krono CDF - Washrooms & Toilet Cubicles
SWISSCDF (compact density fibreboard) is a compactly sealed, black coloured fibreboard. Both designers and builders love the high density (> 1,000 kg/m3) of this attractive elegance. With its multi-ply construction, SWISSCDF can offer patterns and textures like no other product for interior design. Natural, very robust, scratchproof, splash resistant and with a high level of flame resistance – that's SWISSCDF. The boards are turned into sideboards, wall combinations, open shelves, office furniture and school furniture. They have proven themselves in areas with increased moisture (with splashes, without continuous contact with water and not in standing water). They form front panels in kitchens and bathrooms. They hold their own as lockers in sport and wellness facilities, and separate everything that needs to be divided in sanitary facilities.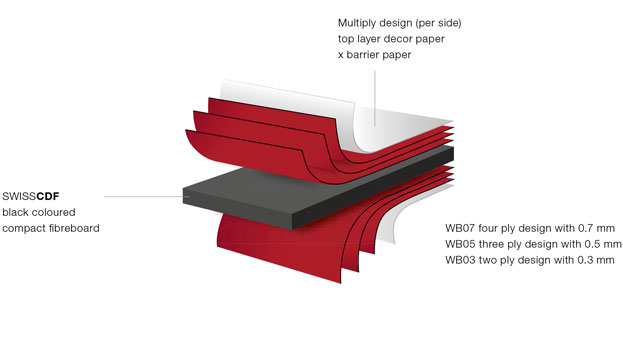 Architecture is the art of bringing form, material and functionality into harmony and getting the very best out of it. SWISSCDF is unique in terms of its design, density and robustness. Put SWISSCDF in the limelight.
Thanks to its multi-ply design, SWISSCDF is predestined for the production of complex and sophisticated routed structures, such as text, logos and joints. With the latest laser and CNC techniques, your creativity knows no limits.
Specific applications require a careful selection of materials. SWISSCDF can be pressed with all the textures and decors of the «One World Swiss Collection» of SWISS KRONO AG which fulfil the highest requirements and choice.
A fire retardant requirement often limits the choice of materials. SWISSCDF meets the requirements according to EN 13501-1 which increases its range of use vastly.
Download the Latest PDF Brochure
Gallery
Oops, no products have been added to this category yet.