Testimonials
Dear visitor, welcome to our testimonials section. Please read our reviews and find out what customers say about Noyeks Newmans Ireland, products and services provided.
Joe & Louise - A Customer Note *****
"Chris, Thank You so very much for all your unbelievable help, outstanding customer care, phenomenal attention to detail while we were building our new home. Thrilled to see the final outcome. We really appreciate all your support - Thank You, Best Wishes Joe & Louise"
Brendan, A Customer Note *****
"I am very happy with the response , especially from Kieran Reddy. Kieran gave me the prices I needed very quickly when I followed up my email by phone, he was a pleasure to deal with."
Connor, Trustpilot *****
"Colin in the Finglas branch has been incredibly helpful with everything from planning, ordering to questions around fitting. His communication around every step of the process has been really clear. The overall build has been very complicated during covid but the kitchen and flooring went smoothly and we're delighted with the result."
Alice, Google My Business *****
" I had the pleasure to deal with Colin and the team and as ever they were lovely patient and full of good ideas. They really helped me achieve all I wanted and went out of their way to help me at every step with great visualisations. I was thrilled with the results. I look forward to working with Colin again and again. As Colin was on holidays on my next project Vanessa helped me and she was a credit to Noyeks too and I particularly appreciated how kind and patient she was with me when I tried to do all I needed to with a toddler in tow. Thanks to her suggestions I found just what I was looking for and was once again thrilled with the service."
Gerry Gleeson Dream Homes, Google My Business *****
"We have recently finished installing our new kitchen which we purchased from Noyeks in Ballymount. On arrival we were lucky enough to be served by Janeen who without fuss and in a professional manner took our scribbles on a piece of paper and guided us through the whole process from unit sizes to choice of worktop, doors, colours, handles etc. All was done and dusted in no time. As the units were being assembled we, of course changed our minds on the layout to add more units. Back up to Janeen who without blinking an eye understood what we wanted, made some excellent suggestions and off we went happy clients. We cannot thank Janeen enough for all her calm help and we were delighted with the outcome. Gerry & Máiréad Gleeson. PS. We'll be back shortly for the utility/pantry units."
Pearse, Google My Business *****
"I couldn't recommend Noyeks Newman Finglas enough, and specifically Colin. From start to finish the designing, ordering and fitting of my new kitchen was seamless. Colin in incredibly knowledgeable and professional, making great suggestions but always keeping budget in mind. I went to 4 other kitchen providers before Noyeks and went through the full design process, Colin was the only one who actually knew his stuff and could call out areas that would/wouldn't work well in the tight space I had. Very happy to have made the decision to go with Noyeks. They are also hands down the best value in the market - save yourself some time and go directly to Noyeks!"
Georges, A Customer Note *****
"I want to wish you and the whole team at Noyeks a successful and productive New Year. I want to thank you and everyone with sincere gratitude for your assistance and support this past year. The staff at Noyeks has been instrumental in making my work successful and my customers 'happy'. Thank you again. Best wishes Georges". The projects finished by Ask Companions - Classic & Modern Joinery.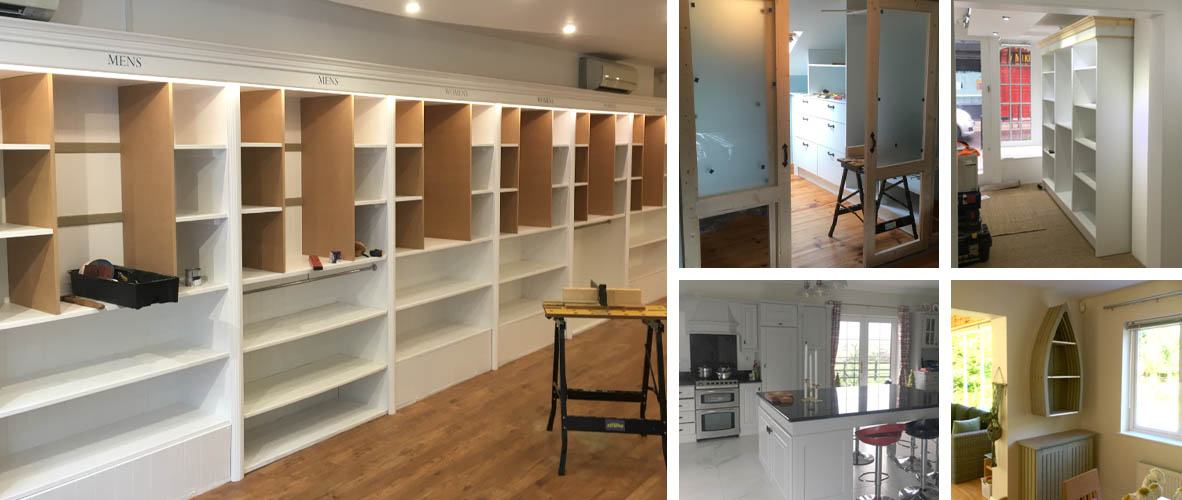 Ciara, Google My Business *****
"Visited the Finglas branch today for new wooden floors and couldn't recommend them enough. Great quality for your money and brilliant service from the lads in the warehouse. Will definitely be recommending to family and friends."
Barbara, A Customer Note *****
"I recently ordered decking and fixings from you. It arrived this week and the quality is excellent. I want to say thank you for allowing me to pay off this order for the last few months, while honouring the original pricing even though some of the products had increased in the meantime. I greatly appreciate your integrity in this regard. It is refreshing to see a company that values customers over their bottom line! I dealt specifically with Alan. He was professional, courteous and always informative when I called or emailed. He is an excellent representative for Noyeks Newmans! If you have an employee of the month programme - he should be the April winner!!! Or buy him lunch, or give him a half day off. He deserves it. You can be assured, I will definitely be a return customer."
Jim, Google My Business *****
"I was looking for a Larder unit of good quality for my project in the kitchen after contacting several company's I chose this company as the guy I dealt with Alan was very helpful and very responsive in answering all my technical questions he provided me with exceptional customer service , the quality of my new unit far exceeded my expectations Overall I would highly recommend Noyeks to anyone for the customer service, high end products and speedy delivery. It was a pleasure dealing with you Alan keep up the good work !!!"
Mary, Google My Business *****
"I was most impressed with the excellent service I received from Kyle at the Tralee Branch. He was very helpful and so easy to understand and communicate with. It can be very daunting and overwhelming when attempting to design a kitchen (in my case) and Kyle took all of the mystery and 'jargon' out of the process and had some really helpful suggestions. Also he was conscious of budget and practicality and unlike some other companies, he didn't try to sell me add ons that I really didn't need. If Kyle is an example of the next generation in Customer Service, well we have nothing to worry about!"
Christina, Google My Business *****
"Would 100% recommend Noyeks in Tralee and especially Flan who made the experience a pleasure by putting in the extra effort to make sure that everything was perfect. I think it's so important to recognise staff who go the extra mile like Flan, he was so helpful, he sent me numerous quotes when I kept changing my mind and it was never a problem. I also loved how he checked in with me every step of the way and nothing was ever an issue, he was always happy to help. Delighted now with everything for my house renovation. Flan definitely made the experience for me, he is great at customer service and I hope he is appreciated."
Josan, Google My Business *****
"I would like to thanks Janeen for all her help in organising my kitchen supplies. She has been a great help from start to finished. Brilliant Customer service. She always happy to help and will go extra mile just to make sure your happy with your order. I would also like to say thank you to Robert on the warehouse department who is very helpful & cheerful always ensure the customer are serve well. Im certainly coming back again to Noyeks for my next renovation."
Sarah, Google My Business *****
"Can not recommend Alan in the Finglas branch enough. He was very professional and helpful. Really informative when it came to me choosing the kronoswiss laminate flooring. This flooring is absolutely beautiful. Both product and service was great!"
Roisin, Google My Business *****
"We were getting essential work done on our house, when I contacted Noyeks, Maria looked after me from start to finish. They were so professional and nothing was too much trouble. Communication was fantastic and when products came into I was contacted straight away. All staff which I spoke with were fantastic, and even getting a sample from the guys in the warehouse. We had used Noyeks 10 years again for more flooring and kitchen in our house and I am delighted we went back to them again. I can recommend Noyeks 100%, and thanks again Maria for all your help and patience, much appreciated."
Rhona, Google My Business *****
"My dealing with Noyeks were with Alan. He was very courteous and responsive to emails. They did not have the sink I wanted in the shop but Alan said he would contact another store and check if there was one available before he would take the order. I bought a Franke sink and it was delivered to my home. Upon opening it I noticed there was a dent on one side of the sink. I took photos of the damage and emailed Alan to let him know. The following morning I had a phone call from Alan who said they would replace the sink and that one of their employees who lives about 40 mins from my house, would deliver it later on that afternoon. I was delighted with this as I was expecting a delay in getting a replacement. I will definitely use Noyeks again and would have no hesitation in recommending the company and to contact Alan to help them with their queries!"
Nicola, Google My Business *****
"Where do I start. I suppose with the amazing Janeen, from the very start I found her friendly, professional and so easy to deal with. In an industry where customer care is forgotten, Janeen reminded me that there are some people out there worth their weight in gold. I have been trying to source a particular item for my kitchen and kept coming up empty handed.. until Janeen. 24 hours later item purchased and collected, no fuss ,no hassle. I can't rate her highly enough. Her employees are lucky to have.her. I'll definitely be a repeat customer. Thanks again. 5 star service"
Susan, Google My Business *****
"Just want to comment on my first experience in your Ballymount store. Was looked after by a very helpful girl called Janeen. She was so helpful in helping me pick out floors. Delivery was arranged with now delays and I am delighted with the floors that I chose in the end. Will definitely return soon. Thank you."
Celine, Google My Business *****
"Was dealing with Kyle and he was just brilliant. I have to say that Noyeks are my No. 1 store now, any chance you might set up in Cork. It is so nice when people are interested in what they are selling and the way in which you deal with people, you get top marks Kyle. Trust me there are alot of people who just don't care about the customer but with Noyeks they have a great way of making you feel comfortable when asking questions about the product, no pushing you into buying or making you decide there and then. Super service and well done Noyeks. Noyeks you are also very lucky to have Kyle as an employee, he is such a pleasure to deal with. Thank you so much."
Tom, Facebook *****
"Taking this opportunity to give a big shout out to all your staff at Ballymount Branch, particularly Aidan, Eileen John and Stephen who helped me through countertops, splashbacks and a base cabinet. This morning I needed ceramic sink and tap Stephen had me sorted so I had all fitted without a problem. Thank you all for the help and advice."
Margaret, Google My Business *****
"At kitchen design stage of new build and had pleasure of dealing with David, kitchen design consultant in the Tralee branch of Noyeks. David's attention to detail, advice and insight are excellent. After an initial consultation we received our 3D plan and everything was perfect! He really listened to what we wanted! Emails were responded to promptly, can not fault service so far."
James, Google My Business *****
"From all my floors, doors, kitchen / bathroom units, countertops, wardrobes and materials etc they have been absolutely brilliant. We did encounter issues at times due to such a large amount of items however Ollie and Joe approached all problems from a solution-focused perspective and at times went above and beyond for me. For this reason I decided use Noyeks for most of the kit out and will continue to use and recommend them going forward."
Oonagh, Google My Business *****
"I recently bought the Dublin Oak laminate floor. I got an idea of what I wanted from the website and then got in touch with Alan in Finglas who provided me with additional info. He was very prompt and helpful. The floor itself is beautiful and good quality, much better than I expected as I had only seen photos of it. Overall, I'm very happy with the whole experience and will buy from Noyeks again."
Tom, Google My Business *****
"My experience with Noyeks has been nothing short of incredible. We were let down by a couple of suppliers while getting our house renovated and got in touch with the team. They were able to give us all of the information we needed, "warts 'n all" and provide us with the best quality service, advice and products that we could have hoped for. We initially needed just laminate flooring but because of our experience, we have now organised a Kitchen, Sinks etc and flooring. Extra shout out to Keith who has been incredibly responsive and never minds a stupid question. Would HIGHLY recommend."
Patrick, Google My Business *****
"First time dealing with Noyeks. When in to see about replacing my kitchen counters. Met with Andrew. Andrew was extremely helpful and I managed to get everything sorted so easily. He advised me how to get my counters cut so they fitted into the car. With the help of another member of the team who cut them to size and went out of his way to make sure that I got everything loaded right inside the car. Sorry I did get his name, but like Andrew was a pleasure to deal with. I won't have a problem recommending Noyeks to anyone. First class service."
Aidan, Customer Feedback *****
"Recently I undertook a project of renovating an old property in Ballyheigue, Co Kerry. Having reviewed several suppliers for the Kitchen, doors, flooring, skirting and architrave I settled on Noyeks in Tralee for everything. I want to acknowledge and thank Ed and David who have been exceptionally helpful. David's kitchen design was on the money and Ed was top class in his delivery and his sales. Please pass on my sincere thanks to both guys. "
Joe, Kitchen Fitters - Houzz *****
"We have being working with Noyeks for years in a professional capacity, we have found the products of a very high quality and the sale staff a very helpful and have great product knowledge. We hope to be dealing with Noyeks Newmans for the following years."
Lisa - Google My Business *****
"Excellent service, Joe was amazing at interpreting my random measurements and providing a gorgeous high-quality kitchen and flooring at a great price! Very responsive and just overall a star. Also was extremely grateful that two guys were organised to help bring in the delivery - (thanks Glenn from Ballymount) Overall, highly recommend ."
Richard - Google My Business *****
"I recently purchased some doors, handles, architrave and skirting from Noyeks. I was introduced to the floor staff who advised me on the large variety of ranges available within my price range. I also met the GM, Joe Costello who even though busy was very generous with his time. I never felt I was under pressure to buy and I was given the space to decide. I did go away and do some additional research on pricing and I have to say Noyeks were competitive. I would certainly recommend them and I will be back."
Pam - Google My Business *****
"Super quality kitchens, great guys working here who know what there at and have plenty of advice tips and tricks. Thanks Lads."
Marcella - Google My Business *****
"I am absolutely thrilled with the help that I got from Noyeks , I was able to update my kitchen by getting three new doors made, I was dealing with a John North Brady who was so helpful."
Mark - Google My Business *****
"Great service all round even down to the fellas in the warehouse lovely chap very easy to deal with I think his name was Glenn I would have no hesitation coming back to the shop."
Becca - Google My Business *****
"Jim helped us pick out our new floors and was so helpful the couple of times we went out to the store. He also recommended a fitter to fit them and they are perfect. Thanks so much for your help!"
John, Kitchen Fitters - Houzz *****
"We have been purchasing products from Noyeks for 10 years or more. The provide a very reliable service, and a high quality product. Their staff are extremely helpful. We will continue to work with Noyeks Newmans in the future."
Jeff - Google My Business *****
"Super kitchen, floor and sheet material supplier. Very helpful."
Steve - Google My Business *****
"I've been going to Noyeks for a few years now, and I have to say that I find them great to deal with. Friendly staff, always been very helpful with enquiries."