Renovation & Construction Projects
Noyeks Newmans is one of the leading suppliers of high-quality timber products to the construction and renovation industry in Ireland. So, whether you are working on a small or big residential, commercial or industrial project contact our expert staff to learn about the solutions, services and products we offer. Please browse through our page below to learn more, discover ideas, products and solutions.
KITCHENS
BESPOKE KITCHENS - An Unusual Order For Avril
"Delighted with my new kitchen! Ours was an unusual order for Noyeks as we were ordering a kitchen for a home in Libya. The team in Tralee were brilliant, once we gave them the kitchen measurements they came up with a number of different ideas for our space and worked with us to choose the best layout for what we needed. Though we ordered in Tralee, everything had to be sent up to Dublin to be shipped out to Libya so we were nervous about what might happen if anything went missing but thankfully everything was very carefully packed and arrived safely. Many thanks to Peter and David in Tralee for help with the design, layout, ordering and the logistics of getting everything up to Dublin and ready to ship." - Avril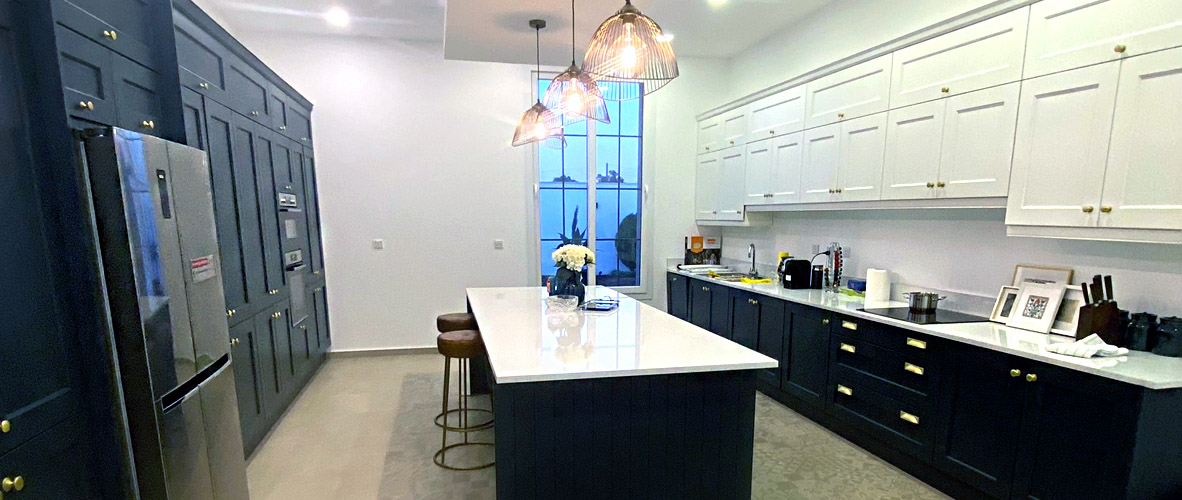 KITCHEN RENOVATIONS - A New Kitchen For Mulligan Makeovers
"The kitchen reveal! I chose a dramatic black kitchen for my studio apartment. It was a bold decision to go for something so dark in such a small space, but I think it paid off, And I am obsessed with all the gold details - Kitchen from Noyeks Newmans." - Phena Mulligan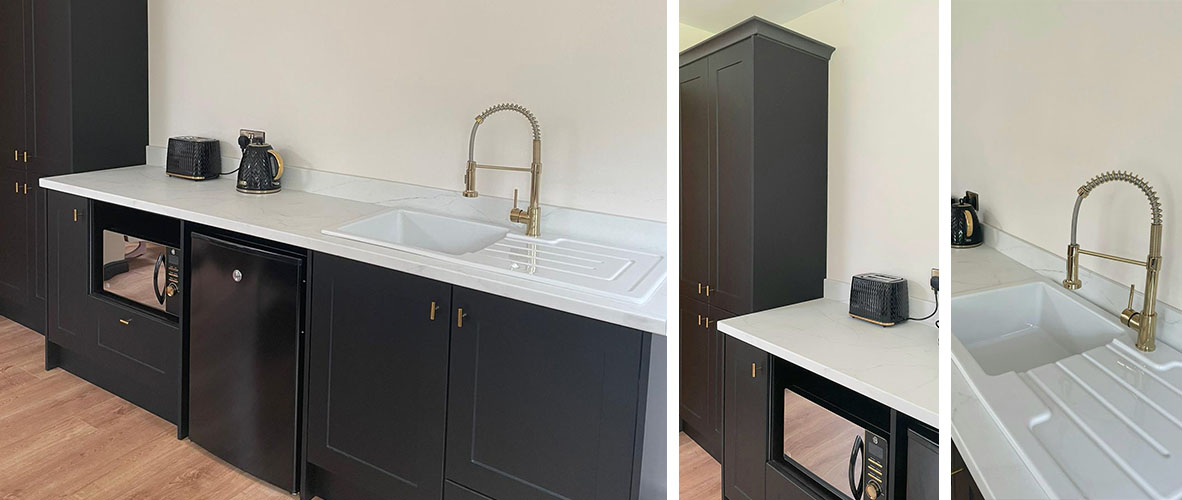 BESPOKE KITCHENS - A New Kitchen For The Property in Glenomena Park, Booterstown, Co. Dublin
Noyeks Newmans were delighted to design & supply this stunning new kitchen - family room - dining room (7.92m x 5.94m) for the property in Glenomena Park, Booterstown, Co. Dublin. The amazing kitchen from Noyeks Newmans has beautiful cabinets and shaker doors, stunning quartz worktops, a classic kitchen island with a solid-wood worktop and gorgeous oak flooring with underfloor heating.
The property is listed on the market by DNG Group Limited.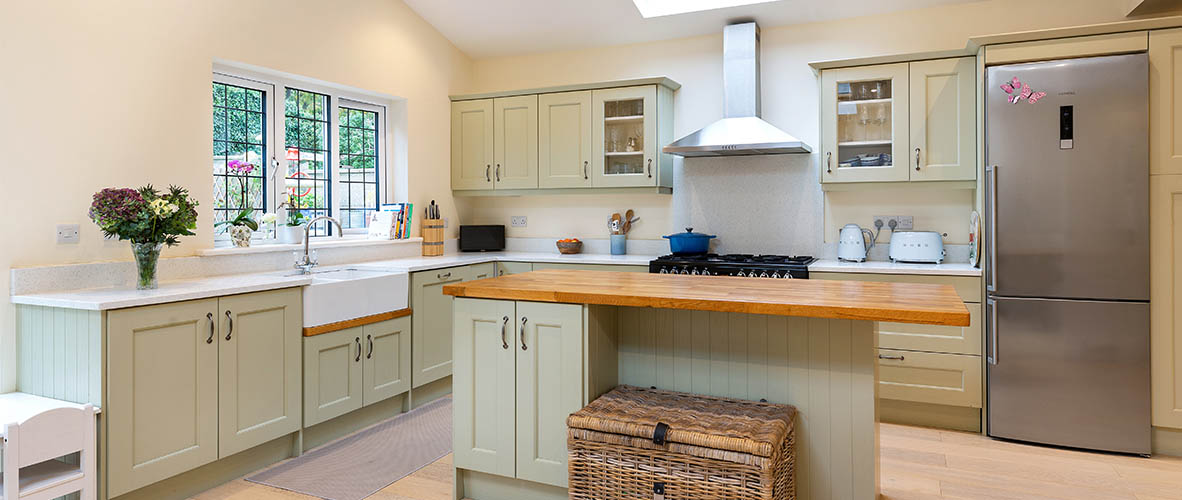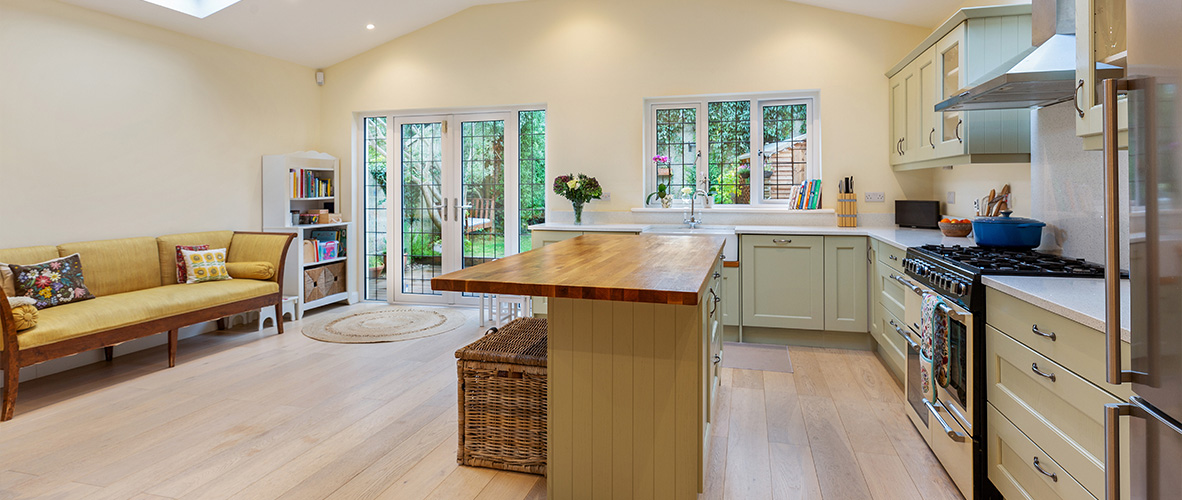 BESPOKE KITCHENS - Renovation Projects By DeaLow Construction
Noyeks Newmans were proud to supply products to DeaLow Construction company and see the final outcome.
For the first project, Noyeks Newmans recommended and delivered: kitchen doors - Buckingham Navy Blue Ash, a kitchen worktop - Solid Oak, kitchen sink - Belfast, kitchen tap - Modern Tanana Black, extractor fan - Stainless Steel Square Glass, Swiss Laminate flooring - AC4 10mm Kronoswiss Lake Maggiore, internal doors - Tobello White Shaker, decorative panels - Cambrian Oak.



For the second project, Noyeks Newmans supplied Kronoswiss New York laminate flooring, internal doors - Tobello White Shaker, wardrobe carcasses - Cambrian Oak, kitchen doors - made from Cambrian Oak panels, a kitchen worktop from Topshape - Black Star Astro, kitchen composite sink - Schock Black, kitchen tap - Modern Tanana Black.


WOOD FLOORS
TEKA WOOD FLOORING - The New Activity Centre at the Adare Manor Hotel, Co. Limerick
Discover the beautiful images of Teka Champagne engineered wood flooring which was supplied by Noyeks Newmans and chosen as the preferred floor covering for the recent renovation project at the new Padel Club at Adare Manor. Installed by "Kieran Buicke – Floors By Design", the dark rich tones of the Teka Champagne wooden planks are in keeping with the luxurious surroundings synonymous with Adare Manor. The easy to clean and maintain Teka engineered floors create the perfect wellness space, rustic appearance and the mood for daily workouts. The renovation project completed by "John Paul Construction" at the Adare Manor Hotel property, Co. Limerick.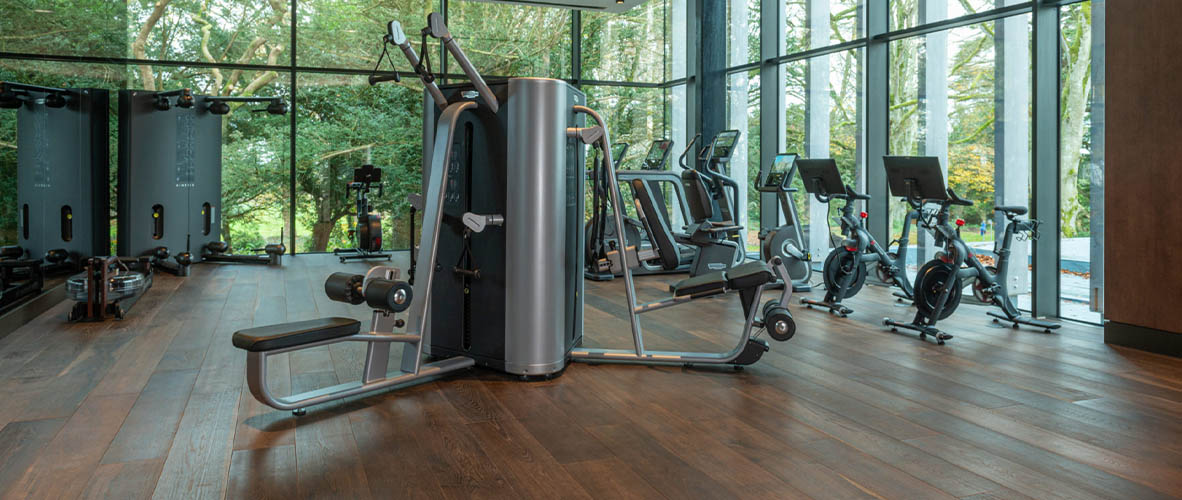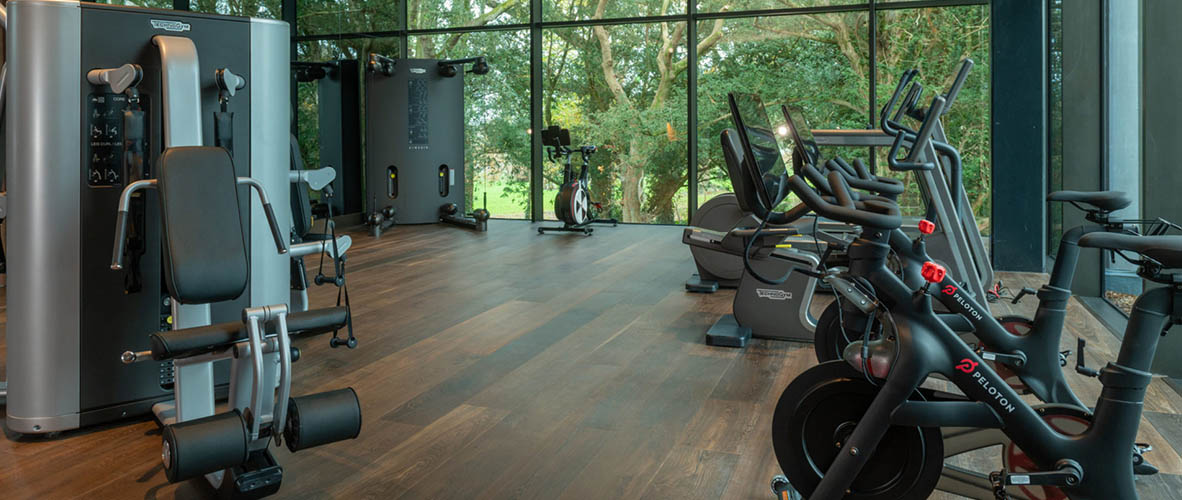 CLASSIC WOOD FLOORING - The Kitchen Is At The Heart Of The Home
Noyeks Newmans supplied a nice-looking wood flooring to complement the renovation of a house in County Monaghan, Ireland. The interior design of the house is based on an open plan approach to the interior combined with the simple design features of the Georgian period.
The property is listed by Selfbuild Ireland.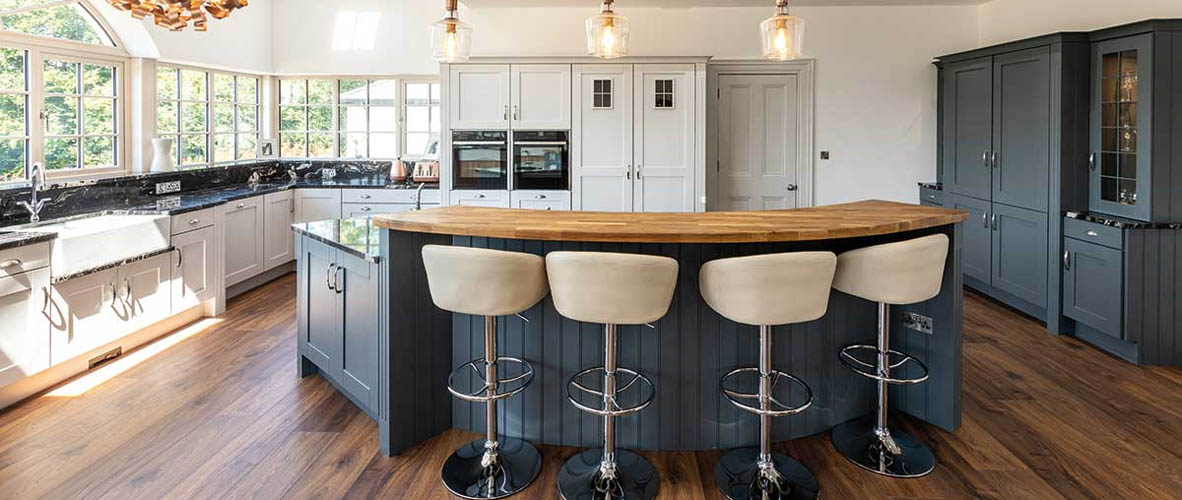 SHEET MATERIALS
MEDITE PREMIER FR - Flame Retardant MDF at the Central Bank of Ireland
Noyeks Newmans supplied MEDITE PREMIER FR, veneered MDF sheets from Medite Smartply which were used in different areas of the Dublin`s most anticipated construction project - the Central Bank of Ireland Headquarters. The recently renovated interior of Irelands`s most iconic building was completed with high quality, efficient, environmentally friendly and flame retardant Premier FR MDF panels. MEDITE PREMIER FR is produced in both Euroclass B and C. CARB2 compliant, it also has a smooth finish and can be made in a range of sizes and thicknesses, giving it the versatility to suit many applications in public areas from hotels, offices, libraries to schools and crèches.
Project by architects Henry J Lyon, Medite Smartply, Noyeks Newmans and Woodfit Acoustics.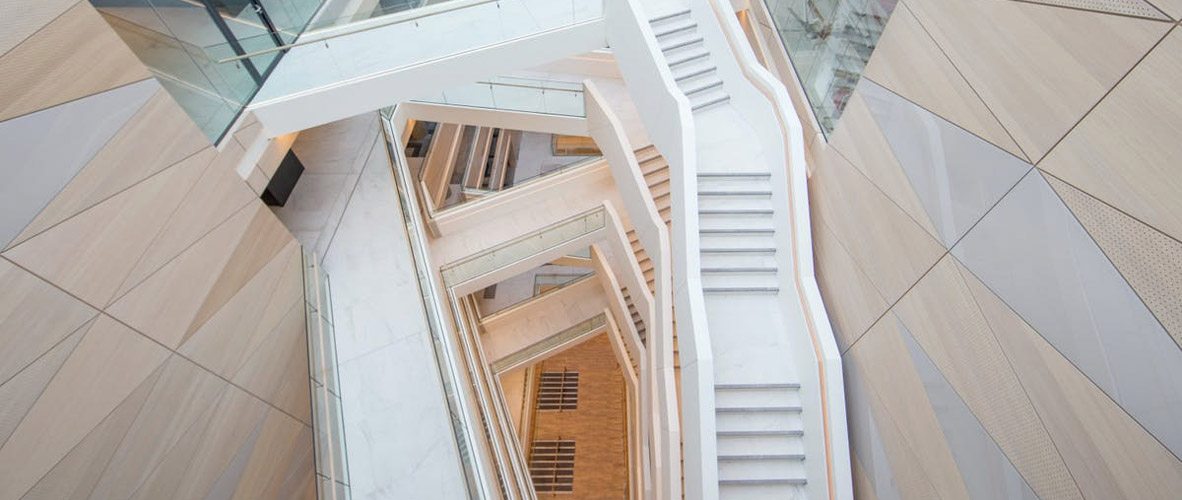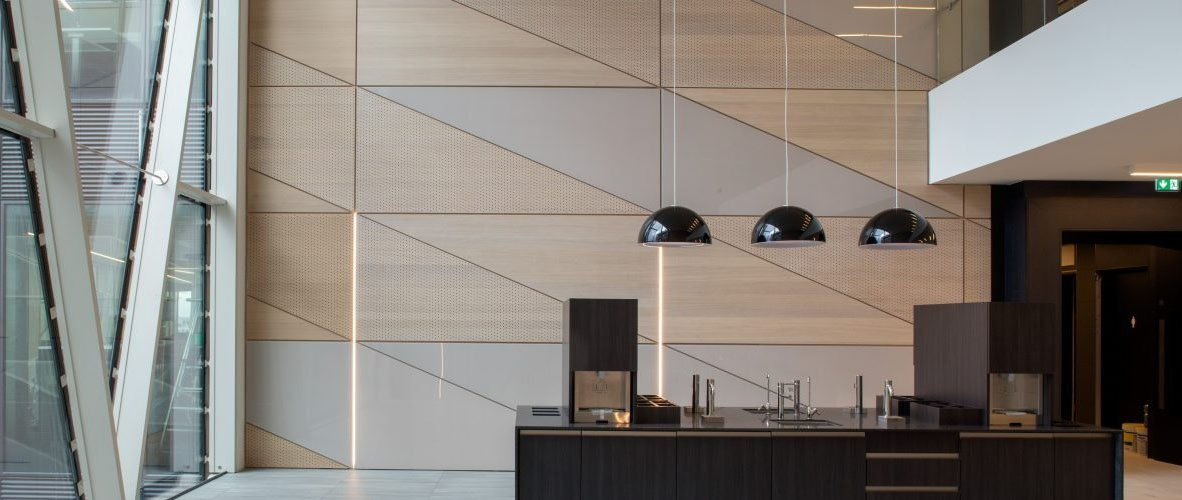 Melamine Faced Boards (MFB) - The Celtic Collection From Swisskrono at the Tonn Store
Noyeks Newmans supplied Canyon White 07066 MFB Melamine Faced Boards from the latest Swisskrono Celtic Collection. The new Celtic Collection of melamine boards features modern colours and designs and is ideal for a wide variety of applications to include bedroom units, furniture installations, shop displays, backdrops. The new melamine boards are made of a chipboard, MDF or CDF (Compact Density Fibreboard) coreboard covered with decorative surfaces and patterns such as wood grains, concrete designs or plain colours. Project by Tonn Store, Unit 2 Mahon House, Main Street, Malahide, Co. Dublin.