SWISS CDF - Compact Density Fibreboard
SWISSCDF – Compact Density Fibreboard - a compactly compressed, black coloured fibreboard (> 1,000kg/m3) which targets hearts of architects and designers with its high density and aesthetic stimuli.
CDF - Compact Density Fibreboards
Thanks to its multi-ply design, SWISSCDF compact density fibreboards are predestined for the production of complex and sophisticated routed structures, such as text, modern textures, patterns, logos and joints. With the latest laser and CNC techniques, your creativity knows no limits when using compact density fibreboards. SWISSCDF decorative surfaces are suitable to be used in interior design. Natural, very robust, scratchproof, splash resistant and with a high level of flame resistance, the boards can be turned into sideboards, wall partitions, open shelves, office and school furniture.
SWISSCDF - High Density Fibreboard (>1,000 kg/m3)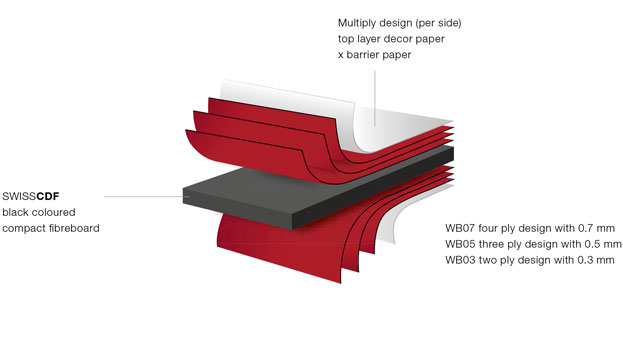 SWISSCDF fibre boards are also perfectly suitable for creative applications in public areas like: exhibitions, hospitals, venues, restaurants, shops, hotels, changing rooms, toilets.
SWISSCDF boards are environmentally friendly too. Made from Swiss wood that originates from sustainably managed forests. During its production, the energy sources used are 90% renewable. SWISSCDF completely integrates into cascade use of the wood cycle. Saves CO2 and protects the environment.
A fire retardant requirement often limits the choice of materials. SWISSCDF meets the requirements according to EN 13501-1 which increases its range of use vastly. Download the brochure and discover main advantages of SWISSCDF fibreboards to include: low swelling, shock resistant, scratch resistant, processing friendly, eco friendly,hygenic and available in a wide variety of colours and structures.
Swiss CDF is a sheet material panel from SwissKrono - it combines the newest manufacturing technology with high-quality and sustainable materials. The aggregate toughness and resistance match the most demanding requirements - these boards can be used even in the most demanding interiors such as hospitals because of their hygienic properties.