ECO-BOARD - Recycled Plastic Panels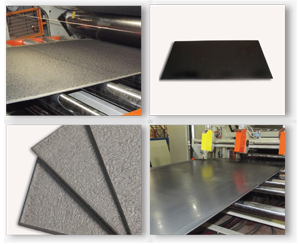 Eco-Board recycled plastic panels are strong yet lightweight flat sheets manufactured from recycled plastic, developed to meet the demands of the agriculture and equestrian markets. Almost indestructible, Eco-Board offers a number of distinct benefits over comparable flat sheet products. This is non-structural product.
Eco-Board panels are made from 100% recycled plastic and can be used in a wide variety of applications. The durability of the product makes it perfect for outdoor.
The Eco-Board panels are waterproof and impervious to moisture therefore do not rot, delam inate, deteriorate or absorb water. They are rustproof, chemically inert, bacteria and mould resistant.
Eco-Board is processed using open loop recycling, converting an existing plastic product into the manufactured panels. The product is manufactured from recycled plastic waste which can in-turn be recycled. Any waste generated in the manufacturing process is re-used and reprocessed saving valuable resource and reducing costs.
Benefits:

Durable - lasts at least 5 times longer than wood
Dense solid material - chip, crack and splinter proof
No surface treatment or staining required
Dimensionally stable
Can be steam or pressure cleaned
UV and insect resistant
Strong and resilient - little/no visible sign of wear
Weather and algae resistant
Non-toxic, chemically inert
Vandal resistant–paint can easily be removed
Virtually maintenance free
Reduced whole life costs

Applications:

Calf pens
Water trough lining
Chicken housing
Stable wall partitioning
Cable and pipe protection
Fencing and barriers
and much more...


Product specifications
Eco-Board is available ex-stock in 2440x1220x18mm
Potential applications
Eco-board recycled plastic panel materials can be used in a wide variety of applications in a large number of industries:
Animal housing - used in partition walling the panel is a durable yet lightweight option for animal housing. The panel can be sawn, drilled, nailed, screwed or routed. The durability and strength of the panels mean they can easily replace traditional products
Wall lining - the versatility of the panel means it can be used for wall lining, particularly in the equestrian and agricultural environments. The ability to clean without rotting makes the product ideal for areas subject to regular use
Hoarding - the panels composite material provides durability and strength as well as being difficult to deface
Oops, no products have been added to this category yet.