Omega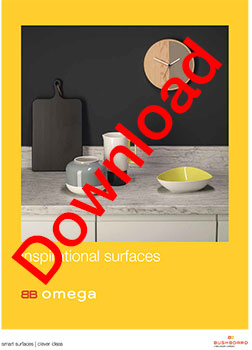 Omega centres on design and texture combinations that take laminate to a new sensory level. Where the eye and the touch are pleased simultaneously by the way the worksurface looks and by the way it feels.
Recognising the appeal of natural stone in the kitchen, there are beautiful designs inspired by slate, limestone and granite complemented by a subtle, riven texture. Add to that some exotic woodgrains with the luxurious feel of being freshly sanded. Or the reflective surface of polished stone that accentuates the pearlescent flecks within the design. And last but by no means least, the unique introduction of silver metallic worksurfaces that open up a host of design possibilities.
Omega worksurfaces marry design highlights with empathetic surface textures. They are exciting and engaging. They are also a byword for outstanding quality.
Click below to view a selection from each category