DECOFLEX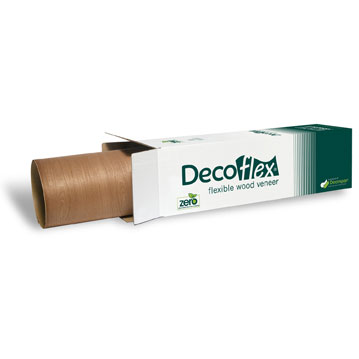 DECOFLEX, The Ultimate Flexible Veneer.
The veneer layons are jointed to size and gled onto a paper baching sheet. Thereafter the fibres are broken in order to achieve the characteristic flexibility of DECOFLEX. Following this the sheets are sanded to achieve a fine surface.
DECOFLEX can be applied with PVA glues, depending on what machinery the end user has available. The speed of finishing is undoubtedly the biggest advantage.
DECOFLEX can be glued very quickly onto any baseboard or other surface.

Noyeks stock 2 species
Product Code: 06502
Decoflex Flexible Veneer Crown White Oak 2440mmx1220mm
Classic Grade
Product Code: 06505
Decoflex -Flexible Veneer Crown Walnut 2440mmx1220mm
Classic Grade
Available with a 3 week lead time
Recent Project
{gallery}decoflex-project-2015{/gallery}
Architectural

Classic

Book
Mixmatch
2500 x 1240 mm
2750 x 1240 mm
3050 x 1240 mm
3050 x 1240 mm
Afzelia doussié (Quarter)

AR

Alder European (Crown cut)

AR

Ash white (Crown cut)

AR

CL

AR

AR

Ash white (Quarter)

AR

Bamboo natural plain pressed

CL

Bamboo steamed side pressed

CL

Beech Steamed

CL

Beech Steamed (Crown cut)

AR

AR

AR

Beech white

CL

Beech white (Crown cut)

AR

Beech white (Quarter)

AR

Birch Rotary

CL

Cherry European (Crown cut)

AR

Cherry US

CL

CL

Cherry US (Crown cut)

AR

AR

Chestnut (Crown cut)

AR

Douglas Fir (Quarter)

AR

Elm red (Crown cut)

AR

Gaboon Rotary

CL

CL

Iroko

AR

Khaya

AR

Larch

AR

Maple

CL

Maple (Crown cut)

AR

AR

Oak crown (Crown cut)

AR

CL

AR

AR

CL

Oak flake (Quarter)

CL

CL

CL

Oak Knotty

CL

Oak Rift (Quarter)

AR

AR

AR

Pine

CL

Oak

CL

Pine Baltic

CL

Sapele (Crown cut)

AR

Sapele (Quarter)

AR

AR

Sycamore (Crown cut)

AR

AR

Teak (Crown cut)

AR

AR

Walnut American

CL

CL

Walnut American (Crown cut)

AR

AR

AR

Wenge (Quarter)

AR

AR

Zebrano (Quarter)

AR

AR

Balancing veneer – mill's choice
•
•
•