Polyrey HP Laminates
2004-2006 collection
Polyrey's 2004-2006 Collection has been designed to meet all your interior fitting needs :
inspired yet practical, up to date yet useful, it combines the indispensable and the innovative.
Whatever your interior fitting project, be it residential, public, commercial, traditional or avant-garde, the 2004-2006 Collection has all the products and decors you need.
The new collection consists of an extensive range of decors and products:
les essentiels: all of our plain colour, woodgrain and pattern decors available in all the essential products for your projects: board, laminate, edging. 
les exclusifs: pearlescent, structured, personalised and metallic decors.
real wood veneer laminate.
annual creations:

2005 Rendez-Vous: plain colours are enhanced with unique structures;
2006 Architexture: new visual dimension through the convergence of modern and traditional values.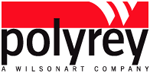 polyreyYou can view a full range at this link -